40 Super Hot
Ideja

Grafika

Audio

Bonus
Igraj 40 Super Hot besplatno
Ideja
Za sve one koji su ljubitelji 20 Super Hot slot igre važi da ovu slot ne igru ne smeju da zaobiđu. Sa igrom 40 Super Hot slot, svi ljubitelji 20 Super Hot slota će samo dodatno povećati uživanje u poboljšanoj veriiji slot igre za koju je zaslužan EGT.
Kao i 20 Super Hot slot, 40 Super Hot slot takođe spada u retro slot igre i daje mnogo mogućnosti za ostvarivanje dobitka. U noj ima pet linija sa po četiri simbola pomoću kojih se nude razne kombinacije koje mogu dati potencijalno veliku isplatu.
U igri je većina simbola voće poput narandži, lubenica, grožđa, limuna, šljiva i trešnji, a osim njih tu su i skateri koji su u 40 Super Hot slot igri predstavljeni simbolom ''zvezde''. Tu su i wild simboli, odnosno ''sedmice''. Uz pomoć skatera, koji su najznačajniji simboli, igrači mogu otključati razne mogućnosti za bonuse i dobitke. ''Sedmice'' služe poput džokera u kartama i i služe kao zamena za bilo koji simbol osim zvezde, a mogu se pojaviti u bilo kojoj traci.
40 Super Hot slot ima skoro iste funkcije kao i većina slot igara, u to spada i opcija autoplay kojom igrači ne moraju svaki put okretati slot već ga mogu podesiti da to rdi umesto njih.
Grafika
Pošto smo već napomenuli da 40 Super Hot slot igra spada u retro igre, takva je i grafika koja je u potpunosti prilagođena da izgleda u tom stilu.
Prikaz igre je potpuno jasan, a takvi su i simboli. Nema ni preteranih detalja koji često umeju da odvraćaju igače od igranja slot igara.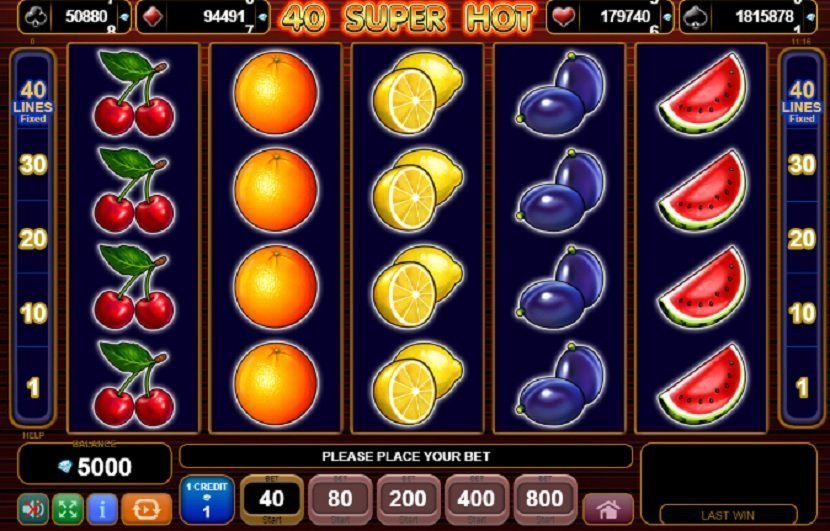 Audio
Kao i kod većina retro igara, zvuk je slian i kod 40 Supr Hot slot igre. Okretanje slota proizvodi karakterističan zvuk koji se menja ukoliko igrač dobije ''zvezdu'' ili ''sedmicu''. U igri nema drugih melodija, osim kratke u slučaju neke dobitne kombinacije.
Bonus
U 40 Super Hot slot igri mogućnost bonusa igrači ostvaruju ukoliko dobiju ''zvezdu''. Uz njenu pomoć, igrači otključavaju razne bonuse koji im mogu doneti i do 10.000 kredita.
Kada igrači ostvare dobitak, imaju mogućnost da igraju ''duplo ili ništa''. Pojavljuje se opcija pogađanja koje boje će biti sledeća karta, crne ili crvene. Ukoliko igrač pogodi, dobitak će mu biti dupliran, a ukoliko promaši gubi sve to je osvojio. Igrači imaju mogućnost da tri puta u nizu odigraju ''duplo ili ništa''. Ova opcija u igri nije obavezna i igrači mogu da je preskoče.
Zaključak za 40 Super Hot slot igru
Ako ste ljubitelj retro slot igara, 40 Super Hot slot je pravi izbor za igru. Osim što uspeva verno da dočara pravo slot iskustvo, daje i veliki broj mogućnosti za dobitak.