Scopa
Ideja

Grafika

Audio

Bonus
Igraj Scopa besplatno
Ideja
Scopa slot je prilično svež naslov slot provajdera Habanero, predstavljen u junu 2020. Ideja za ovaj slot dobijena je iz italijanske kartaške igre istog naziva, a simboli u njoj imaju izgleda inspirisan vremenom renesanse.
U pozadini koloona predstavljena je mapa Italije, kao i brojni predeli ili znamenitosti. Tako su na primer vidljivi rimski Koloseum ili planina Vezuv, zajedno sa vozom koji prolazi Italijom. Prikaz se kasnije menja, a scene prolaze polako u pozadini dok se slot vrti horizontalno sa desne na levu stranu. Uprkos pomalo neobičnom prikazuj, ovaj slot je prilično standardan kada je mehanizam dobijanja u pitanju jer je potrebno da siboli kreiraju dobitnu kombinaciju.
Simboli uključuju vaze, bodež, amblem sunca, kao i tri ljudska karaktera. Svaki od njih se pojavljuje na kartama, a simbol i ime dolaze upravo iz tradicionalne kartaške igre koja je u Italiji popularna od 18. veka. To su simboli plemića, viteza i kralja. Osim spomenutih, Scopa ima i wiald i skater simbole. Wild je roze zasatava koja može da zameni bilo koji drugi simbol, a skateri su simbol voza i simbol zlatnog sunca.
Grafika
Scopa nudi veoma zanimljivo vizuelno iskustvo jer se Habanero zaista potrudio i obogatio ovaj slot sjajnom grafikom koja u potpunosti igračima stavlja do znanja da igraju slot koji je toliko inspirisan Italijom, iako je kartaška igra Scopa popularna i u Južnoj Americi, tačnije u Brazilu i Argentini.
Osim odlične grafike, slot ima i odličnu animaciju, dok su ljudski likovi kod tri simbola u samom slotu prikazani u stilu koji pomalo podseća na crtane filmove, ali ne u previše neozbiljnom tonu, pa je ukupan efekat i više nego zadovoljavajući. Zahvaljućio dobrom izboru grafičkih rešenja, izgled Scope je jedan od njenih velikih aduta u privlačenju igrača koji umeju da cene dobro urađen slot i njima će ovo biti posebno prijatno iskustvo.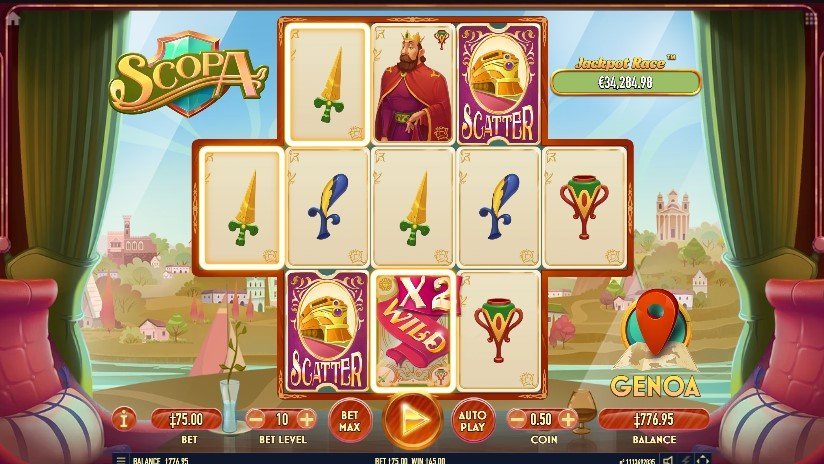 Audio
S obzirom na ton celokupnog slota, odnosno korišćenje italijanske kartašek igre kao inspiracije, audio je takođe urađen po istom principu. Ukoliko se odluče na ovaj slot, igrači će moći da čuju laganu mozuikkju u italijanskom stilu koja neće zvučati naporno čak i posle nekoliko ponavljanja.
Prilikom ostvarivanja određenog dobitka muzika se menja, tačnije karakterističan zvuk poviđenog tona koji označava da je igrač uspeo da napravi dobitnu kombinaciju.
Bonus
Scopa ima nekoliko mogućnosti kada su u pitanju bonusi. Postoji takozvana Scopa isplata kada su svi simboli na ekranu deo dobitne kombinacije, što igra nagrađšuje sa dodatnom sumom uvećanom 25 puta.
Skater simboli aktiviraju 13 besplatnih spinova kada se tri pojave u sredini tri reda. Svako igranje besplatnog spina igrača vodi u novi grad, a radi se Đenpovi, Milanu, Napulju, Tosakni i Veneciji. Bonus počinje u Đenovi koja nudi x1, x2 i x3 multiplikovanje dobitka sa wild simbolima. U Milanu wild simboli su prošpireni u redovima, dok u Napulju svaki wild simbol koji igrač dobije pretvara druge simbole u wild simbole.
U Toskani simboli niže vrednosti se pretvaraju u wild simbole, dok tokom igranaj u Veneciji igrač može da dobiej wild simbol u svakom od 13 besplatnih psinova u redovima jedan, dva, tri i četiri tokom osnovne igre, kao i dva wild silboma tokom igranja bonusa bespltanih spinova. Svaku od lokacija igrač može promeniti pritiskom na dugme u dnu desne strane.
Zaključak za Scopa slot
Za ljubitelje Italije ovo je slot koji jednostavno moraju da odigraju. Ima veliki izbor potencijalnih opklada koje će odgovarati bukvalno svakom ibgraču nezavisno od toga koliko je spreman da uloži, a Scopa se može igrati i besplatno na nekim stranicama kako bi igrači mogli da steknu pravi utisak o njoj, a da ih to ništa ne košta.
Sa svojim odličnim izgledom i atraktivnim stilom prikaza uz prijatnu muziku koja neće dosađivati igračima i odvlačiti im pažnju, Scopa je definitivno slot kojem će se igrači rado vraćati.